It's been awhile that I've been blogging here. So sorry for my readers (assuming I have readers…LOL!) that I don't have new to offer to you these days but I hope to do my best to update this site even once a week. We just moved and my internet account couldn't be transferred in our new place because of some "jurisdiction" issue so we need to wait for another 2 weeks to get a new telephone number and then our internet connection will then be installed.
While waiting for our internet to come, let me invite you to join the $300 Coach Bag Contest hosted by Mom Conversations. So far, the most expensive bag I owned is worth only less than $100. If I would ever be a lucky winner for this COACH bag, it would be "heaven" to me. Where else could you get a bag worth $300 in blogniverse offered for free? Only here at Mom Conversations!
Won't you love to own a bag as expensive as this? Click the widget below and join the fun! Don't forget that Genefaith informed you about this fabulous contest and please don't forget to mention that at Mom Conversations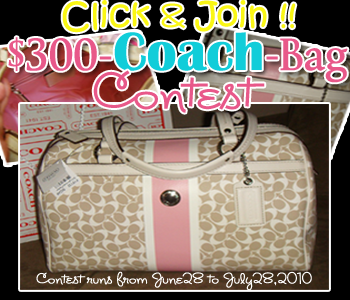 Beauty Tips and Tricks : Get Smart Blog : Practical Beauty Tips : Spices of Life : Review My Opinions : New Haircuts and Hairstyles : Fabulously Frugal : Weight Loss the Healthy Way
Hurry to join now coz the contest will end on July 28. I'm already late in joining and earning points because we moved and we still don't have our internet connection yet. I'm making more entries today to gather more points for only the 25 entrants who have garnered higher points will get the chance to be the lucky owner of this Coach Satchel Bag as they will be qualified for the random draw using random.org. as what the host stated.