Oh I'm still dizzy with LOVE. I forgot to update this site. My bad:(
Any way, how's your Valentine's? For us, we've survived this without really celebrating with flowers and chocolates for the past years but it felt great when your partner finally realized that no matter how OK for us girls not to receive flowers and chocolates or love notes on this day designated by the world to be a LOVE day, deep down inside we longed that they're going to do something to make us extra "ecstatified" even just for that day!
and my wish did come true…here's my story:
Wouldn't you be surprised if your hubby will suddenly come to understand your need for romance? I'm surprised…so overwhelmed! He has been willing to fulfill my definition of Valentines- flowers , chocolates and love notes,even though it's not the same as his.

Yesterday, I wasn't expecting anything from hubby. His morning kiss and greetings are enough to make the day. We don't even have a plan to eat something special that night. We're just comfortable and happy to be just together with our baby.

That afternoon I was a bit irritated when he didn't pick me up at our agreed time and place. I was famished and almost fuming with angry words when he called and told me that he waited for me at the other side of our school. I was confused and agitated of the sudden change of what we had agreed. His reason: traffic. I couldn't bring myself to walk another 100 metres because of my 4 inches heels and heavy stuff (I brought a lappy) so I commanded him to meet me to carry my stuff. You see, when you're starving and super tired and plans didn't turn the way you wanted it, you easily get irritated with your partner. As if he's the one responsible for everything! I know I'm wrong but I couldn't control my feelings. There he met me with his smiling face. He reached out for me and carry my things and commented how serious I looked. Good thing I'm wearing sunglasses to cover my swollen eyelid so he didn't see my piercing look…he..he…

When we reached our motorcycle, he told me that he brought me something- flowers, chocolate and Love card. I'm speechless! That explains why he's 30 minutes late-he stopped first in an overcrowded mall to buy me Toblerone and cards. Writing the sweetest words took time, of course and the bouquet of rose was bought in the other side of the road so he couldn't get through me because of the traffic. Oh this sweet gesture really makes me ashamed of myself, of how I treated my hubby because he's late. Amidst the crowd (parents and students) I hugged my hubby to say thank you and couldn't stopped myself laughing with joy! After all these years together, he really was listening to me when I told him what I really wanted on occasions like this.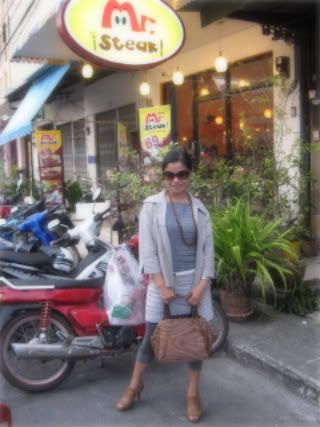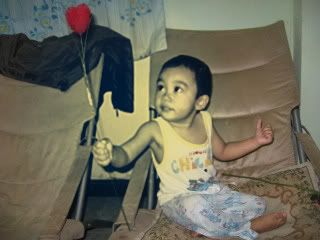 Dining out is impossible for us because it's already getting late and we still need to fetch our little boy in his babysitter's place. Taking-out food from our fave restaurant, Mr. Steak is our only option . We enjoyed the food. We enjoyed the chocolate and I'll dry the rose to keep them:). I slept with smiles painted all over my face..call that LOVESTRUCK!

Didn't receive flowers and chocolates from your hubby? Don't worry, God will show you the value of gift that your hubby's capable of giving you-a gift more precious than diamonds, roses or chocolates. Trust me, I've been there:)

Have a happy day!