It has been months (I think since December 2010) that I missed joining Couple's Corner. I blame it to my crazy schedule. But since our class just ended, I have now time to join the fun! This new site of mine will now contain all my CC entries.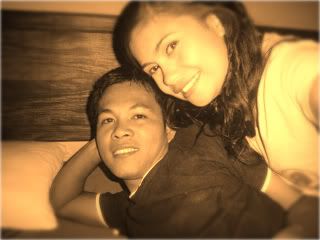 Hubby is my first and only boyfriend so he got all the "FIRSTS"
!
How could I ever forget my first kiss with him. It's a daunting challenge with someone I love.
I could vividly remember, it was exactly 2 months and 2 days after having my first boyfriend at age 20 when I received in my boarding house white roses from my BF with a love letter ( do I need to mention, it's the first time I read "I Love You" from him). This is already enough to make me elated the whole day
In the evening (it's Friday and suitors are allowed) we're left alone in the living room . I dunno where are the others…Oh yeah..it's Friday and most of my board mates are heading back to their hometown. Our topics just suddenly touched about "KISSING". I'm startled when he asked me if he could kiss me! I'm caught off guard! My mind is swirling with thoughts like "am I kissably fresh? who knows I could have bad breath at that moment" or "do I still have courage to face him after his lips touches mine"
and other details.
Maybe he saw that though I'm having discomfort, I'm still looking at him (as if I'm really waiting huh?
), he mustered courage to ask me to just relax and close my eyes and we'll just be fine. I even asked him why kissing is important in our relationship (coz I'm planning to remain "never been kissed, never been touched maiden" until the day I got married
Now. I know it's an insane plan
)? His answer? Kissing is important to seal our commitment to each other and to let me know that he loves me. Hmmmm…he sounds like my dad who told us that he kissed mom that night mom agreed to be his girlfriend, in front of her chaperons! Kissing is just a part of a healthy relationship.
He sounds convincing (not to mention that I'm dying too for this moment
) so I agreed, closed my eyes (can you kiss with open eyes?..
) and waited for him. Though I think I'm ready, the moment he reached around my waist, gently draw me toward him, hold me on my chin and his soft lips touches mine enough to smell his heavenly breath (enough to make me more conscious if I smell as heavenly as him
) , my thumping heart overwhelm me that I'm almost suffocated and stood there like a petrified tree
! All I have was that chaste little peck but it means a LOT to me. I turned so red..so blushed that we stopped just there. His concern is painted all over his face and asked me if I'm OK. "Yes, I am" I replied whispered. "Could you please don't ask me about kissing next time, I'm not ready"…I continued.
True to his word, he didn't asked me again until I gathered enough courage to take the lead
. I lightly kissed him on the forehead one time to show him that I'm now okay with touch
. Good thing that he got the message and I got the sweetest kiss of all
.